Anyone who owns a dog will tell you their pooch is "paw-fect", but make no bones about it - the stakes just got higher with media veterinarian Dr. Katrina Warren announcing the first ever search for Australia's smart dogs.
But there IS a twist in the tail, as Dr. Katrina explains: "As humans, we tend to equate smart with intellectual ability. This competition isn't just looking for the smartest dog in terms of its ability to sit or fetch a ball," she explains. "Smart in canine terms can also mean street smart, or fashion smart. We're asking dog owners to really celebrate their four-legged friend and find what makes them smart in the broader sense.
There are some pawfect prizes up for grabs – a chance to win 1 of 10 $500 eftpos gift cards to treat both the smart owner and the smart dog! To enter, simply keep the receipt when purchasing a pack of Bravecto between 1 May 2016 and 31 July 2016, and fill in the entry form at http://www.bravectosmartdogs.com.au! Refer to website for full promotion terms and conditions.
Since we want you to experience the Bravecto difference yourself, we are giving away a year's supply of Bravecto to five lucky winners!
THE PRIZE
One year supply of Bravecto, which consists 4 packs each (RRP About $60 each pack)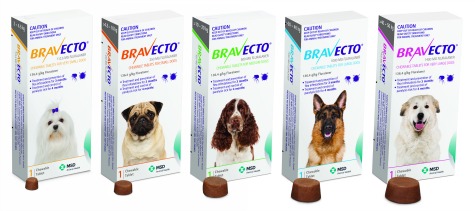 To join the competition, please refer to the competition tab below:
Win 1-of-5 One Year Supply of Bravecto
ABOUT THE EXPERT
Dr. Katrina Warren is the National Ambassador for Bravecto, an oral treatment offering dog owners unprecedented extended protection – just 1 tasty chew protects dogs for 4 months against paralysis ticks and 3 months against fleas – meaning fewer treatments to remember each year, and less to forget! Smart dogs have smart owners, and smart owners use Bravecto. For more information about Bravecto visit http://www.bravecto.com.au, or BravectoAU on Facebook and Instagram.
Thank you, you have entered the competition.